How UXO risk assessments keep clients on time and budget
Igne's research team create detailed UXO risk assessments so clients can determine the risk level of their sites.
The Igne research team is the first weapon in its clients' armoury as they work to determine any existing threat from unexploded ordnance (UXO) ahead of intrusive works such as piling or pipelay.
The researchers provide clients with detailed UXO risk assessments to ensure works can go ahead as planned. Their threat assessments are also underpinned by Igne underwriting client risk from explosive threats.
Here the research team explains the typical process they adopt when pulling all the pieces of the risk assessment jigsaw together.
Anything they discover that is even a little atypical is handled carefully on a case-by-case basis.
Step 1 – mapping the threat
The research department uses geographic information software (GIS) to plot a client's site on to historical Ordnance Survey (OS) maps as well as WWII-era aerial photographs and satellite imagery.
Then, the researchers compare pre and post war OS maps to identify bomb damage and review the history of onsite development.
Historical imagery is used to determine whether there is any evidence of potential ordnance contamination, such as airfields and bomb craters that may not be visible on OS maps.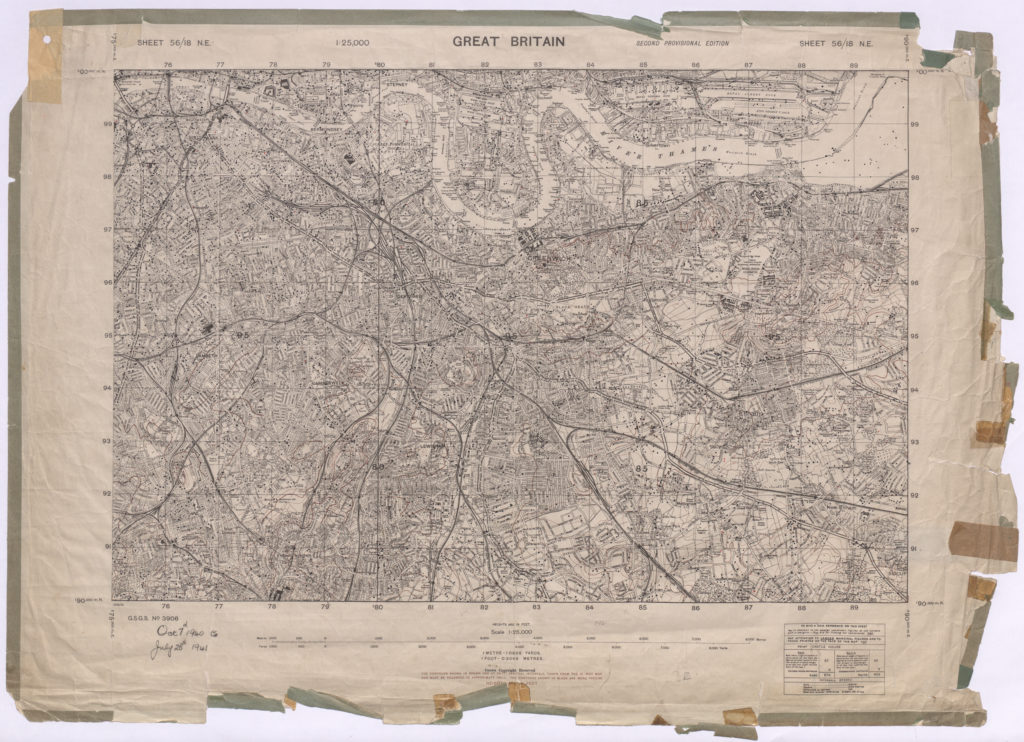 Step 2 – identifying the sources of potential UXO contamination
Once a site is mapped, the team begins to identify sources of potential UXO contamination. They use multiple data sources including:
bomb census maps
bomb damage maps
Royal Air Force site plans
Air Raid Precautions (APR) records
Anecdotal and secondary sources are also essential in ensuring the research is as thorough and accurate as possible. These sources are exceptionally important on sites that have less detailed bombing records.
Sources can include:
books
websites
people's war stories
Step 3 – analysis and reporting of the potential explosive threat
Once steps 1 & 2 are complete, the findings are compiled to create the full, detailed UXO risk assessment report for the client.
The full report always provides sufficient detail to enable clients to understand the potential likelihood of their site being contaminated by UXO. It also details the risk level and provides recommended next steps.
If needed, the site can be divided into zones of varying risk and a map of the site can be produced to help planning.
How long does it take to provide a UXO risk assessment?
The Igne research department works with clients to ensure assessments are delivered when needed if there is a strict project deadline.
The standard lead time for a detailed UXO risk assessment largely depends on the size and complexity of the site; for example, former military installations such as RAF airfields and ordnance factories may take longer to research fully, whereas a smaller London-based construction site is relatively straightforward.
Typically, detailed risk assessments are delivered within 5 to 10 working days after ordering.
What happens next if a site is at high risk of encountering UXO?
Once the final risk assessment report has been received, clients are equipped to decide whether they need to proceed with any further UXO risk mitigation steps such as intrusive survey or clearance.
As an end-to-end service provider, Igne's explosive ordnance disposal experts make recommendations for any further work necessary and support clients through the entire UXO risk mitigation process.
If your site needs a detailed UXO risk assessment contact the Igne research department today for a free initial consultation - call 01634 471 340 or email hello@igne.com.