Our History
Igne is the synergetic amalgamation of six industry-leading companies with over 350 years of combined experience.
THE FUTURE OF SERVICE DELIVERY
Who is Igne?
Igne is the synergetic amalgamation of six companies, renowned within their respective fields, and with over 350 years of combined experience. A one-stop-shop for pre- and post-construction services. Igne's six service categories are: site investigation, testing, unexploded ordnance, water wells, geothermal, and geo-environmental.
Igne was formed to offer actionable insight and critical services on time, on budget, and on scope. By uniting SafeLane UK UXO, WB&AD Morgan, Raeburn Drilling and Geotechnical (including the Northern branch), Terra Tek, DTS Raeburn, and Allied Exploration and Geotechnics, Igne offers strength in depth and breadth of services and capabilities. It offers stand-alone or fully integrated services and can support an entire project's lifecycle. Best of all, Igne's size and reach means we have the capacity to deliver solutions nationwide.
Gain insight into the future of service delivery by learning about Igne's history: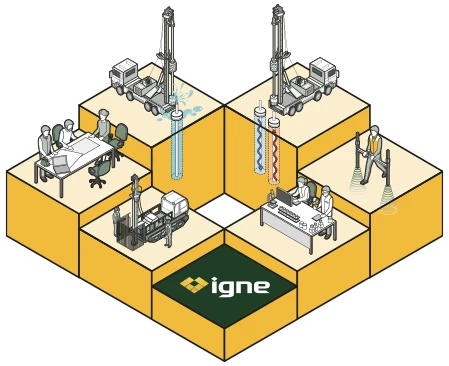 SafeLane UK UXO, formerly known as MINECLEAR (1989), BACTEC International (1991), and SafeLane Global (2018) was a provider of unexploded ordnance (UXO/UXB) risk mitigation solutions. It was one of the first commercial UXO risk mitigation companies to be established in the United Kingdom.

SafeLane, now a part of Igne, offered a complete lifecycle of UXO services including UXO risk assessments, UXO surveys, explosive ordnance disposal (EOD), UXO training, consultancy, marine UXO, and cone penetration testing (CPT).

SafeLane helped shape the commercial UXO risk mitigation industry in the UK, and it worked on many lifesaving projects, the most notable of which was clearing the entirety of the Falkland Islands of landmines and UXO.

SafeLane UK UXO was rebranded into Igne on the 2nd of October 2023 where it continues to offer its industry-leading UXO services to the group.

SafeLane UK UXO still provides its flagship unexploded ordnance services, it does so under the name 'Igne'. Contact them today:

Gillingham

Unit 3, The Courtyard Campus Way, Gillingham Business Park, Gillingham, Kent, ME8 0NZ.

WB&AD Morgan was established in 1946 by Wilfred Bruce (WB) and Allan Dennis (AD) to supply generators to rural areas. In the 1980s, WB&AD Morgan diversified into drilling for water as water costs continued to rise. In 1984, Allan's son, Brian, incorporated ground source heating system installations into the company's portfolio.

WB&AD Morgan designed, drilled, installed, treated and maintained water supply solutions for commercial and residential clients across the UK. On the 11th of October 2019, WB&AD Morgan was acquired by SafeLane Global, and the company was later rebranded as Igne.

WB&AD Morgan has worked with a wide range of commercial clients such as Severn Trent, Welsh Water, Coca-Cola, Brecon Carreg, Pant Du, Ty Nant, the Environment Agency, National Power, Envireau Water, and more.

WB&AD Morgan's 70+ years of experience and expertise in water well and geothermal solutions is now integrated into the Igne brand. Contact them today:

Presteigne:

Industrial Estate, Presteigne LD8 2UF.

Raeburn Drilling and Geotechnical Ltd. (RDG) was established in 1985 as a rotary drilling company based out of Scotland. Predating this, the Raeburn family was synonymous with drilling, originally beginning their work in the 1940s.

As Raeburn's business progressed, it eventually began expanding its operations and fleet to include water well rigs, soil rigs, and geology and engineering services: becoming an all-around ground investigation company. RDG was well-known for its specialised sonic drilling services.

In 2001, RDG integrated Terra Tek Ltd. and DTS Raeburn (formerly DTS Technologies) into its company structure, expanding its offering to include laboratory services and environmental consultancy. In 2007, RDG established Raeburn Drilling and Geotechnical Northern in Aberdeen, increasing its reach across Scotland.

RDG worked on many notable multimillion pound projects, and in 2019 it won the Ground Investigation Specialist of the Year Award at the Ground Engineering Annual Awards Ceremony. On the 23rd of March 2022, RDG was acquired by SafeLane Global. It was consolidated into Igne on the 2nd of October 2023.

Raeburn Drilling and Geotechnical Ltd.'s award-winning services can still be found under their new trading name, Igne. Contact them today:

Glasgow:

Whistleberry Rd, Blantyre, Hamilton ML3 0HP.

Aberdeen:

Badentoy Ave, Aberdeen. AB12 4YB.
Terra Tek Ltd. was a site investigation and laboratory testing company first established in February 1990 in Airdrie, Scotland. It offered a range of laboratory testing (routine geotech, specialist geotech, aggregate and rock), site testing, and chemical and environmental testing services.

On the 20th of April 2001, Terra Tek was acquired by Raeburn Drilling and Geotechnical Ltd., which allowed it to expand and open laboratories in Aston Clinton. As Raeburn Drilling was acquired by SafeLane Global in 2022, Terra Tek also formed part of the acquisition and was rebranded as Igne on the 2nd of October 2023.

Terra Tek's high-quality, accredited, and responsive on-site and laboratory testing services can still be found under the Igne name. Contact them today:

Airdrie:

62 Rochsolloch Road, Airdrie, North Lanarkshire ML6 9BG, UK.

Aston Clinton:

College Road North, Aston Clinton, Aylesbury, Buckinghamshire, HP22 5EZ, UK.

DTS Raeburn Ltd. was established in the 1950s, to help ing clients understand the geological, geotechnical and environmental conditions of a prospective development sites, minimising client risk in relation to purchasing or developing land.

DTS Raeburn offered a myriad of services under the following categories: desk- based research, intrusive ground investigation, risk assessments, site remediation, and environmental auditing and appraisal.

In 2001 DTS Raeburn (formerly DTS Technologies) joined the Raeburn group of companies, which was later acquired by SafeLane Global and rebranded into to become Igne.

DTS Raeburn's geotechnical and environmental engineering services can still be found via Igne. Contact them today:

Birmingham:

Moor Lane, Witton, Birmingham, B6 7HG.

Allied Exploration and Geotechnics Ltd. (AEG) was first established in February of 1988. It began as an independent site investigation company, working primarily for leading consultant and main contractor organisations.

AEG offered a myriad of many site investigation-related services, including (but not limited to) automated ground information systems, cable location services, cable percussion boring, environmental sampling and monitoring, overwater drilling and boring, panda probing, rotary drilling, sampling, standard penetration trip hammer verification, trial pitting, and windowless and window sampling.

AEG was acquired by Raeburn Drilling and Geotechnical Ltd., and later by SafeLane Global: subsequently rebranding to Igne in 2023.

All of AEG's services and personnel can still be found under the Igne brand. Contact them today:

Chester-le-Street

Unit 25, Stella Gill Industrial Estate,, Pelton Fell, Chester-le-Street, County Durham, DH2 2RG.
The same great service, but better.
The Igne Group
If you're looking for the same reliable, high-quality services you are used to from one of the above companies: fear not. All of the excellent services and professional personnel you are used to working with are all still here, but now working with greater synergy and ensuring elevated convenience for you, our client.
If you would like to make a general enquiry to Igne…
Call: 0371 789 1000
Email: hello@igne.com
And if you have any questions, please do get in touch with your usual point of contact at: