Providing UXO awareness training for Redbridge Fire Station
Igne's Field Technical manager Nigel Barton MInstRE provided Redbridge Fire Station with unexploded ordnance awareness training.
'I'm not trying to teach you to be experts but want to give you an awareness of what to do and what not to do if you come across a suspicious object.' – Igne's Field Technical manager, Nigel Barton MInstRE, speaking to the Redbridge Fire Station, part of the Hampshire Fire and Rescue Service.
Redbridge Fire Station & Igne
A request from firefighter Alistair Isles for a Igne munition stress ball led to an idea for unexploded ordnance (UXO) awareness training for his watch at Redbridge.
He approached Nigel Barton, who is the technical field manager at Igne who regularly provides such training to construction clients' site staff for their continual professional development (CPD) and safety.
Nigel readily agreed to develop a bespoke UXO and counter-improvised explosive device (C-IED) awareness training presentation for the fire and rescue services.
On 3rd October 2019, Nigel packed a large case of inert training items and went to meet the team at Redbridge Fire Station to deliver the new training.
The UXO threat in Southampton
Southampton was a strategic bombing target for the German Luftwaffe during WWII as a result of its the docks, business premises and factories.
The Air Raid Precautions (ARP) records show more than 2,500 bombs and over 30,000 incendiary devices were dropped - providing significant evidence of a continuing existing UXO threat in Southampton.
The presence of UXO would alter the approach and standard operating procedures (SOPs) of the fire and rescue services.
The value of the training
The training objectives were to ensure the watch:
understand common threats
understand history of UXO in the UK
The briefing covered:
site safety precautions
actions to be taken if a suspicious object is found
management review safety plan
Interactive engagement tools
Nigel kept the Redbridge Fire and Rescue team engaged with excellent use of props which added an interactive element to the training.
These visual aids provided the firefighters with true representation of the threats, in a safe way.
Firefighters were given the chance to closely analyse the ordnance and ask questions.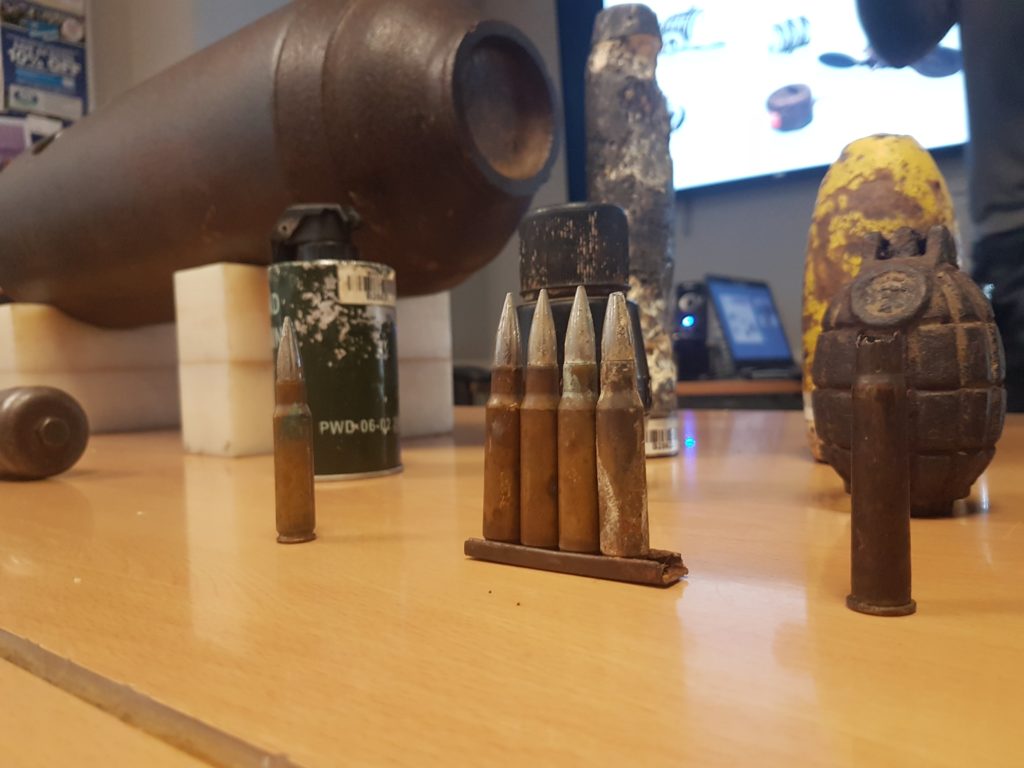 Feedback
Alistair Isles provided the following feedback regarding the training, 'Nigel was very engaging and had a fantastic presence, he managed to keep all the crew interested (it's a hard thing to do) [and] the inert training aids were a nice addition to the instruction we usually receive. The presentation like I've said had great content and was very relevant to us as firefighters.'
Conclusion
The presence of unexploded ordnance in land or on water would affect how emergency services respond to a situation. There is a significant requirement for relevant safety awareness training as a result.
If further awareness of the threats posed by unexploded bombs, grenades, munitions or other devices could help inform your SOPs, please contact Igne for more information about its bespoke training services.
Igne is increasing risk awareness and creating safer spaces globally.