Emergency UXO incident handling UK
A German airdropped SC250kg bomb was discovered on a construction site in Bath. Igne subject matter experts successfully handled the incident.
Emergency UXO incident handling
In 2016 a UK property company contracted Igne to conduct an intrusive survey ahead of piling works on a medium risk site in Bath.
Against Igne's recommendations the client did not requested a UXO watching brief whilst conducting excavations after the survey was complete.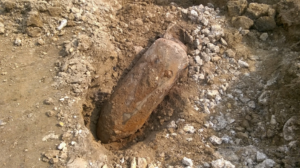 One month later, Igne received an urgent call from site requesting support as, during a reduced level dig, they had encountered a suspicious item that they believed to be unexploded ordnance.
The impact of finding an unexploded bomb on a building site
Igne immediately dispatched an explosive ordnance disposal engineer to the site who, on arrival, instigated a cordon before moving forward to examine the item.
It quickly became clear that the object was a German airdropped SC250kg bomb. The engineer instigated normal incident procedures and requested police attendance. He remained on site as the subject matter expert until the arrival of joint service explosive ordnance disposal (JSEOD.)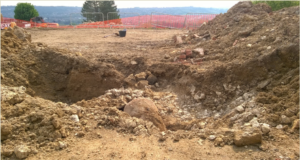 Don't take a risk on your construction or infrastructure site - call Igne's expert team today to discuss the options available to keep your site and staff safe.