Meet EOD Engineer George Wood
George Wood is a member of Igne's team of Explosive Ordnance Disposal (EOD) Engineers who keep clients and communities safe from unexploded ordnance.
These men are the backbone of British unexploded ordnance (UXO) operations, deploying to sites across the length and breadth of the nation to keep clients and communities safe from explosive threats.
George has been with Igne's UK land team since November 2004, and joined after successfully training as an EOD engineer when he was an army reservist.
How did you get into bomb disposal via the reservist route?
My father was in the army, stationed in West Berlin, and I was working as a civilian in the Royal Army Ordnance Corps. This was 1985, before the Berlin Wall came down. The reservists were called the Territorial Army (TA) in those days.
I went for a selection weekend in January 1985 with 408 Field Troop RE (V). I was 21 when I got through and was the youngest member of the troop. I remained within the troop until late 1990, after the fall of The Berlin Wall in 1989.
I then returned to the UK and transferred to 111 Engineer Regt based at Minley Manor. I left a few years later before re-enlisting in 1997 within 101 Engineer Regt EOD & S.
I was mobilised in 2003 into the regular army and spent a year based at Carver Bks with 33 Engineer Regt on Op Midway. After demob, the following year I went back to work at my civvy job.
Which is a circuitous answer to your question! But all my training and operations experience led me to qualify as an Explosive Ordnance Disposal (EOD) Engineer. One day, after going back to the civilian life I got a call out of the blue asking if I wanted to work for BACTEC – one if Igne's previous name - and of course I said yes!
Stepping back in time for a moment, what did your father do whilst stationed in West Berlin before the Wall came down?
He was in the Royal Corps of Transport and spent 25 years in the army in the end. When he was stationed in West Berlin, he was a driver within a unit called BRIXMIS (The British Commanders'-in-Chief Mission to the Soviet Forces in Germany).
This was a military liaison mission which operated behind the Iron Curtain in East Germany during the Cold War. He would tour behind the Iron Curtain as a member of a 3-man team taking photographs of Russian equipment – quite exciting!
What did your civilian role entail with the army?
I was a foreman working for the 87 Supply Depot in Berlin. We'd issue food on Monday Wednesday and Friday to the units within the Berlin Infantry Brigade, including to all the families at their home addresses. If you like, this was the first version of what we now call home delivery!
As the Russians blockaded Berlin after the end of the WWII, the British army continued to ensure there was enough food within the brigade to feed all the families and units for 6 months. We even had rum!
Whilst looking after supplies as a civilian, what was your role within your territorial army unit?
The unit was 408 Field Troop RE (V), originally a bridging troop in West Germany. It was disbanded in the late 60s but then brought back as a trial TA unit. I ended up being in the G10 (stores).
I spent five years doing that whilst also working for the army as a civilian full time.
What's the best bit about your job?
That is easy, it's the variety of it – no two days are ever the same!
I am so fortunate to be doing something I love. I enjoy coming to work…I even look forward to coming back to work after being on holiday.
I also like the people I work with. 16 years on and I am still living the dream.
What have been some of the interesting things you have found as an EOD Engineer?
There are almost too many to mention. I remember I was working on a dredging job in Rochester. We were working for a company dredging the Thames Estuary, we had loads of projectiles coming ashore daily.
We were operational 24/7 and clearing so much ordnance, one shift something strange came out of one of the big catchers – it looked like a cylindrical float.
It was the size of a leaver arch folder and was in two pieces. One side had a tube in the middle and the other side had four little hooks on the top. I researched it and could not find what it was, so I contacted Sandy Sanderson. He was the fountain of all EOD knowledge.
I showed him the pictures and he went straight to a book in the library, rifled through it and presented me with evidence of what I'd found – a flare from the Napoleonic War!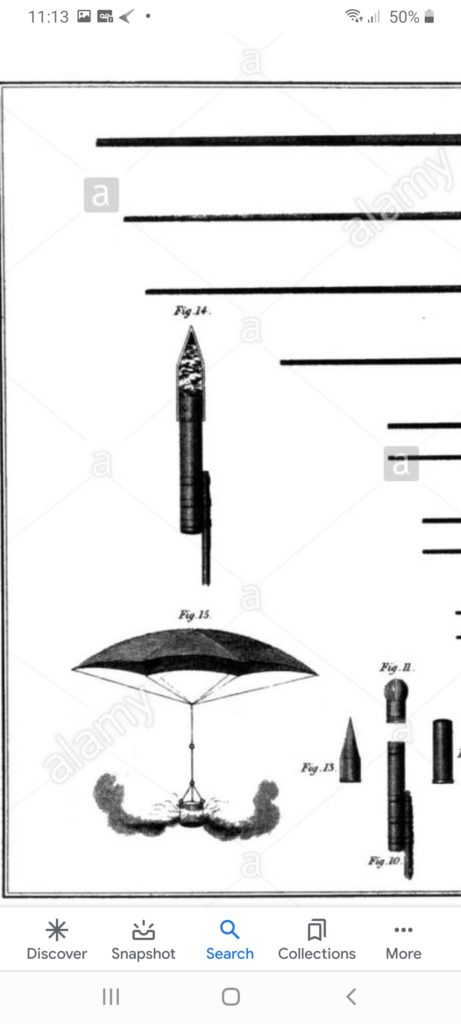 When it was fired, it would separate. The top half with the hooks would hold the parachute and the lower part would have the flare in it
Another job where we were watching a lake being dug, we found four projectiles. After the RLC had destroyed them they told us that there was a cannon ball left in the hole.
It was definitely not a cannon ball; it had two lifting eyes sunk into it and when cleaned up with a brush we noticed there was a hole in the middle and it had gun powder in it.
It turns out it was a 13inch Napoleonic siege mortar! It weighed 208lb and contained 8lb of gun powder.
When we called the RLC back to dispose of it and told them we had found a 13-inch mortar they said there is no such thing!
Eventually we found so many of them that they commandeered a dumper truck and drove them to Qintec at Foulness Island for the Army to dispose of.
Where have you enjoyed working the most?
I love working anywhere – and travelling to sites up and down the UK. But I have also particularly enjoyed the long-term work we have done in Belgium; on the beaches and also inland.
I was last there from September 2019 to March 2020. I was working on the beaches, finding all sorts of ordnance - anti-invasion concrete blocks with anti-tank mines in them and lots of projectiles!
Igne has been working there on and off since the early 1990s, (previously as BACTEC).
Here's a video of a depth charge that I discovered being detonated:
When you returned from Belgium in March where you locked down?
No, because the explosive threat does not diminish.
I was on a site down on the south coast where the winter storms had caused a breach in the sea wall. I was supporting the repair work on that and found two 50kg bombs on the beach – one was within our work area, and one I just found when I went for a walk in my lunch break!
Since then I moved to a site in Barking where our client found ordnance unexpectedly. During our time on site, we have found almost 1650 X 40mm anti-aircraft projectiles.
It is a difficult site because we could not use any detection equipment on it. It was an illegal dumping area – as you can imagine the ferrous content within the tonnes of debris make locating ordnance with a detector impossible, so we ended up doing a visual search.
What do you do if you find live ordnance?
We identify the ordnance and determine whether it is live or inert. If it is live, we clear our immediate work area. Then we call the police, tell them who we are, where we are and who we work for. We then tell them what we have found, give them the measurements and markings etc.
It is then up to the police to pass the information on to the joint EOD services at Didcot. They then task whichever unit they feel is best suited to the job.
And what do you do when you are not finding unexploded explosive ordnance?
I like to spend time with my family and my fish! I've got a 1100 litre tank full of tropical fish, I spend a fortune on it but I do find it very relaxing.
I have been married for 29 years to Angela and we have three children, Rebecca, James and Daniel. And I have got my Jack Russell, Bomba; he is 16 but still going strong.
Thank you to George for giving us insight into life as an EOD engineer. George and the wider UK land team use their expert knowledge to provide efficient, safe solutions to counter the risk of UXO for clients.
If you want to understand more about the way explosive ordnance professionals like George can help protect your staff and keep your project on time and on budget, contact Igne today.