Lucie Tiverrier UK UXO General Manager
Lucie Tiverrier joined the SafeLane team in 2012, initially as a Business Development Officer. Passion and remarkable work ethic have resulted in her role developing throughout her near 10 years with the company.
Lucie Tiverrier joined the Igne team in 2012, initially as a Business Development Officer. Lucie's passion and remarkable work ethic have resulted in her role developing throughout her near ten years with the company...and today she is the new UK Land UXO General Manager.
Here she is pictured with COO Andrew Richards.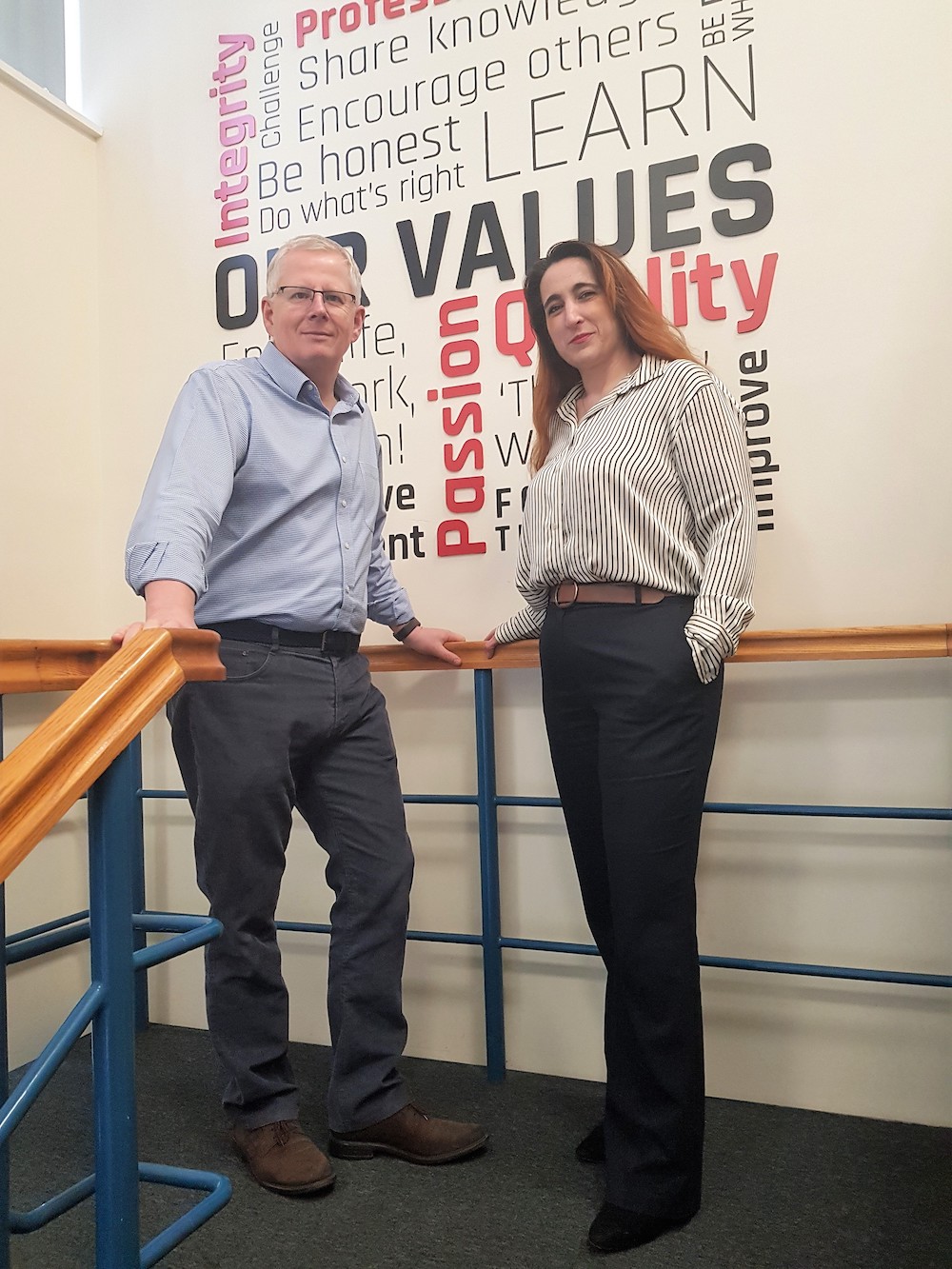 In this week's Staff Spotlight, we find out about Lucie's love for commercials, her international experience, and overcoming the challenge of learning the industry's jargon in a second language.
How have you developed your role throughout your time with Igne?
Well, I have actually moved quite a bit within the company! In 2012, when Igne was called BACTEC I was hired as a Business Development Officer, my focus was for overseas contracts that focused primarily on opportunities in the Middle-East & Africa.
Within 4 months, I was promoted to Business Development Manager.
However, due to structural shifts and the realignment of the business a few years prior to the official rebrand, the overseas operations were then moved to our sister company based in Ross on Wye.
My role shifted again, and I became an Operations Project Manager for UK projects. I did this for a couple of years, developing my understanding of the ground processes that enable us to support our clients.
Then I moved into a more commercially focused role, I was UK Commercial / Contracts Manager for over 5 years and loved it - but when my colleague Mark 'Paddy' Smith decided it was time to move on, I was delighted to be promoted to the position of General Manager.
What did you do before joining Igne?
I worked in recruitment for the telecommunications industry for nearly 7 years. I focused on the Middle Eastern and African markets, it was quite niche! This international experience helped me during my initial role at Igne.
Before that, I did have some pretty fun jobs. I worked for a skiing holiday agency. A major perk was that I was allowed to go skiing in France twice a month during the season. That was great fun!

Before that, when I was still in France, I did marketing for a world-renowned red wine. I worked within the grounds of a beautiful castle in the South of France…and developed a lifelong passion for red wine! It's certainly easier to drink it than it is to take photographs of the bottles and market them.
Throughout your career you've worked in marketing, operations and commercial roles, what did you do to prepare for this?
I went to an international business school, my degree was actually Marketing, Negotiation and International Trade so I think this links everything I've done together. I've enjoyed experiencing different elements of businesses but, I favour the commercials!
What brought you to the UK?
During my first year of university, I had to spend 3 months abroad. I ended up in York in the UK. I then got selected to do a working gap year, this was 1 year abroad. I could have gone anywhere in the world - but I wanted to come back to the UK. I love England, its culture, and its people.
What is your favourite aspect of the commercial process?
Within the UK department, our services consist mainly of supporting the UK construction industry which is very dynamic and competitive. I enjoy working with the numbers, particularly the negotiating process and looking for commercial efficiencies.
I also pride myself in creating collaborative relationships with our clients and of course securing a contract always provides satisfaction.
What is the most interesting project you've brought in?
We've done so many, this is a very hard question!
Hmm, I guess I'll have to say a fairly recent project we completed in Cumbria. The sheer size of it and its complexity really pushed me to the limit and was very challenging at times. However, I got to work with fantastic people, and I learnt a lot throughout the process.
Overcoming the challenge makes the outcome more rewarding.
In the UK, what is the most contaminated ground we've cleared?
The highest quantities of unexploded ordnance (UXO) tend to come from whenever we have been tasked with clearing former army training areas or former Ministry of Defence (MOD) land.
MOD land tends to be redeveloped into residential developments, meaning it really needs to be cleared comprehensively.
It's work we're extremely experienced in and excellent at, but it's challenging.
Can you tell us a little more about the value of UK land's services for our clients?
Igne has been supporting the UK construction industry for 30 years. Our team is committed to ensuring our clients can safely continue the development of their site knowing UXO has been proactively searched, located and removed.
We work with our own in-house assets and personnel and I strongly believe our experience is unrivalled.
What are common client misconceptions relating to the explosive ordnance threat mitigation services that we offer?
The extent of the UXO contamination still out there as a result of WWII is not widely understood. I think when you are project manager, responsible for constructing a new high-rise in London for example, the potential risk from a 70 year old item in the ground might not be your number 1 priority. Unfortunately, this threat could have disastrous consequences if not addressed and mitigated properly.
What projects do we assist?
We support any project that involves intrusive groundworks - because there is a potential risk of encountering UXO.
Our services enable us to help anyone who needs to undertake intrusive groundworks, for any purpose.
We are proudly involved in all sectors including: commercial construction, residential, renewables, infrastructure.
What is the biggest challenge you've personally overcome at Igne?
I am originally from France and although I moved to the UK permanently in 2003, English is my second language. My biggest challenge was learning the terminology specific to not only construction but ordnance, bombs, ammunition, survey technologies etc.
Funnily enough, that's not really something you cover in English lessons at school!
I remember reading my first Unexploded Ordnance Risk Assessment and thinking, "Wow! I have got a lot to learn!" Let's just say Google translate was used a fair few times in the beginning…
Now, I think I would struggle the other way round and I don't think I could maintain a discussion in French on the subject, I'm so used to dealing with the terminology in English.
What do you enjoy most about working for Igne?
It might sound like a cliché but people are amazing. When I was first interviewed for the job all these years ago, I was interviewed by a former Royal Engineer Major and I knew then this workplace would be different!
We have people from all around the world, with different cultures, different professional backgrounds, and different life stories.
Our CEO and management team are definitely people-focused, we are very well looked-after. I think it shows in the day-to-day business. People are supportive to each other and we are all working towards the same goal.
You know when you work full-time, you spend more time with your colleagues than you do with your family, and so to me having a positive and supportive team is a must.
How has coronavirus impacted your clients?
The UK construction industry is resilient and kept going, supported by a pro-construction government. The entire industry reacted very quickly, putting the required measures in place to ensure the safety of all.
Although the impact has been undeniable, experts seem to agree that it was less significant than originally forecasted. Priority was been given to sites near completion and infrastructure initiatives such as HS2, which we are proud to be supporting.
What do you think construction focuses will be over the next 5 years?
The pandemic has certainly created a shift in business with working from home or hybrid working being the 'new normal.' Additionally, the need for online retailing has accelerated. As a result of these changes, I expect sectors such as warehousing and logistics to show growth while others, such as new offices, might slow right down.
We also need to keep in mind that as well as the pandemic, Brexit has impacted the construction industry with currently limited private investments and a big impact on labour, resources and the supply chain.
How can Igne assist with this?
Over the years, Igne has shown great resilience in adverse market conditions. It's all about remaining flexible, adapting to the market, understanding our client's objectives and constraints (financial and otherwise), and working together.
Igne is proud to be working with its clients to protect their commercial interests and deliver on their objectives.
Lucie Tiverrier will continue to use her skills to help clients navigate this uncertain time, protecting them from unforeseen costs, delays, or catastrophic consequences for workers. Then she'll be able to recommend a lovely bottle of red wine to enjoy at the end of the day!