Staff Spotlight shining on Jordan Dadson
In this week's staff spotlight we meet lifelong Arsenal fan, Jordan Dadson. He's UK Land's superstar Sales Coordinator. Jordan explains why he's working flat out during lockdown to help Igne's construction clients get ahead with their essential planning, whilst looking after his self-isolating nan.
Meet Jordan Dadson: How long have you been with Igne – and what's your professional background?
I will have been with Igne two years in June; before I joined, I was Sales Coordinator for a fire safety company. We used to install water mist solutions for some fairly high-end properties.
It was a small company and so I was deeply involved in the operational side of things and gained invaluable experience.
Did you get to see inside any famous people's houses?
Well, I helped draw up the plans for systems in houses belonging to Benedict Cumberbatch, Jose Mourinho, one of the One Direction lads…people like that.
The trouble is, I'd only see the plans of their houses – I'd never get to see inside. But that was pretty eye opening – houses with entire floors given over to servants' quarters!
So, is that your ambition - to have a house like that?
Ha yes! But I might have to sell a few more Igne solutions first!
Why did you apply to join Igne?
Well, the water mist company sadly went into administration – nothing to do with me I hasten to add! So, I found myself temporarily unemployed and decided to do my Prince2 qualifications, which led me to be eligible to apply to Igne when a Sales Coordinator job came up.
The agency I applied via wrongly told me it was a bomb disposal company – and I thought 'yes please, that sounds interesting!'
I had two interviews within a week – and a week later I was having my induction!
Tell us about your life at Igne, were you disappointed not to be disposing of bombs?
Straight away I really liked the office and the atmosphere in it. There are some great people who've taught me so much.
When I started, I knew nothing about the sector or unexploded ordnance. I'd never even heard of CIRIA.
I spent the first week reading the C681 guidelines, the first few months gaining commercial knowledge from Lucie Tiverrier, technical knowledge from the likes of Nigel Barton - and by the time I felt I knew really what I was doing, I was hooked!
I love taking an enquiry through to a sale. I start talking to an enquirer who doesn't really know what we do exactly, I talk them through all the options, assess their requirements. I'll speak with them, quote them, and occasionally go to site – I'll do all that groundwork. And then when we win the job because of that, I get real satisfaction out of it.
I know at that point I'm doing my job well, and that keeps me very motivated – I don't need the thrill of bomb disposal!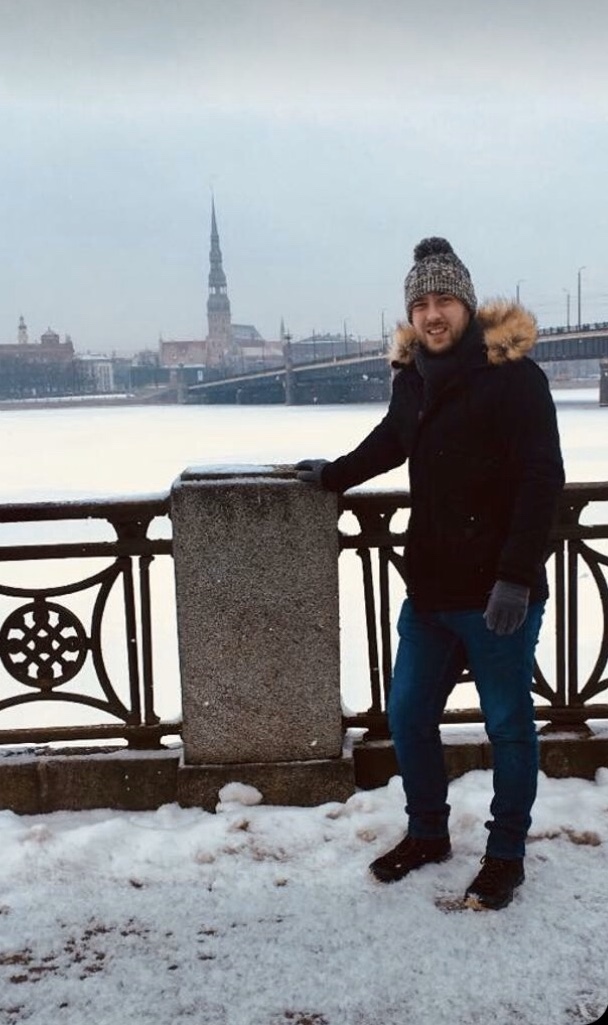 What's your biggest achievement at Igne?
Well, I'm quite proud of a recent job relating to one of the HS2 schemes. I had to put in a lot of work on the tender package. I was fortunate to go on a bid writing course during the process, which was a big help.
But there were a lot of hurdles to overcome – like issues with stringent HS2 emissions regulations for example, and I saw the whole process through from initial enquiry to the contract stage.
But right now, I'm proud to be supporting our construction sector clients through the coronavirus crisis.
I'm working closely with our operations team to make sure we can get onto critical sites safely. After all, some infrastructure and construction projects have to continue – and unexploded ordnance doesn't ever stop being a threat.
Also, our clients are using this time in lockdown really cleverly to get ahead with their planning and administration. It's like they are taking a breather and putting all their clearsighted efforts into thinking beyond lockdown.
For me, that means a lot of enquiries and putting plans in place for when the government eases restrictions on the sector so we can get to sites quickly, efficiently and conduct the critical work that saves our clients time, money and keeps their staff and the public safe.
How are you getting through lockdown - aside from working hard? What are you looking forward to doing when we're all allowed to meet again?
Well I'm a massive football fan – I'm an Arsenal season ticket holder…so I look forward to watching them play again. And I enjoy golf – so I want to get back to that during the small window of nice weather!
But for the time being, me and my family are hanging out on Zoom, doing quizzes and catching up. I'm really enjoying that…the most we've had online at any one time was 22 of us – and that was just my mum's side of the family.
I'm also looking after my nan where I can; she lives nearby and is of course completely self-isolating. So, I'm occasionally getting her a few essentials – I leave it at the end of her path and have a quick check in by shouting! She's doing really well and I'm just glad I can look after her.