Extremely rare Napoleonic-era ordnance
In 2005, when Igne's UK UXO division was known as BACTEC, explosive ordnance disposal (EOD) staff unearthed some very unusual items on a house construction project in Shoeburyness.
Whilst supporting excavation work for the creation of a lake on the residential site, Igne (BACTEC) staff initially found three projectiles. After determining they were stable, the EOD engineers collated the projectiles in one place and called 11 EOD & Search Regiment, Royal Logistic Corps (RLC) to dispose of them.
Bringing in the bomb squad and digging up 'cannon balls'
After the RLC confirmed that the projectiles had been destroyed safely, SafeLane staff found what appeared to be a cannon ball in the hole where the demolition had taken place. The attending bomb disposal team rejected the need to dispose of the 'cannon ball' too as it was inert, saying to site staff "you can have that!"
One of Igne's EOD experts who was there that day was George Wood; he recalls that initially even his site manager thought it was a cannon ball and instructed him to lift it out of the way so excavation work could continue.
"Whilst cannon balls can be quite heavy, and you wouldn't want to drop one on your foot, the first inkling we had that this was not what we thought was when no one could shift it!
"I remember straining all the muscles I had – and calling a colleague – and still it wouldn't move.
"In the end we dug it out with a digger – and discovered it weighed 208lbs!"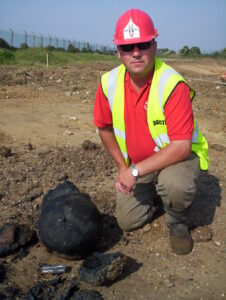 If not a cannon ball, what was the unusual ordnance?
George left it to dry out before starting to clean it up to determine its origin. He carefully removed a thick layer of mud before tacking a 3inch-thick layer of concretion, caused by the sediment build-up of iron ore deposits.
Using a lump hammer and chisel, George was able to bring the ordnance back to the black it was the day it fell in mud. It didn't stay black for long however, because once oxygen got to the metal, it began to rust.
By the time he had finished cleaning it up, more 'cannon balls' had been unearthed.
"Once we had broken the concretia off, we noticed little metal hooks sticking out – these were lifting eyes. Then we uncovered a plug between the lifting eyes, which we removed carefully and found up to 8lbs of gunpowder inside.
"By this time, we knew we had discovered an incredibly rare hoard of 13inch mortars from the Napoleonic War – but when we called the army back to dispose of them, they told us there was no such thing as a 13inch mortar!
"Luckily, my colleagues and I have been around a while and studied historic ordnance in depth – of course, it's critical to the work we do at SafeLane in unearthing ancient ordnance – so we put them straight!
"These mortars were loaded with a winch, hence the lifting eyes, and then fired from a stubby cannon that looked a bit like a witch's cauldron. They had a maximum range of about 4,300m, but were more effective over shorter ranges.
"Anyway, after the army returned and disposed of the bulk safely, a few that were later uncovered have been rendered safe and stored at our workshops ever since. We recently decided it would be a shame for them to remain out of public sight however, and approached the Royal Engineers Museum to see if we could donate them.
"These are extremely rare items of ordnance, and they deserve proper preservation. We look forward to hopefully handing them over and then seeing them on display."
We'll update this article when we know more about what the Royal Engineers Museum intends to do with the SafeLane stash!