Alex Hammerton under the staff spotlight
Alex Hammerton is a member of Igne's Management Accountancy team, a team that's both a critical cog in the well-oiled International Operations machine, and a centre for brilliant banter! In his staff spotlight we discover more about what these number crunchers get up to.
What did you do before you joined Igne?
I was working as an accountant in a seafood company – so, quite different! We supplied seafood to various supermarkets. I went straight to that job from sixth form and joined as a trainee accountant; I started my long studies in that role.
Perks of the job?
Discounted fish!
I didn't like seafood until I started working there – but they always had amazing staff sales where you'd get a massive bag of pretty much any seafood you can think of, for next to nothing. So, I really started enjoying it then.
No cheap fish at Igne, what are the perks of your job now?
The perks aren't material, and I don't want to sound cliched, but from a humanitarian perspective we are doing good in the world. Every day our company pulls bombs out of the ground or out of the sea – we make a difference. And that's what drew me to want to work here in the first place.
How long have you been with Igne?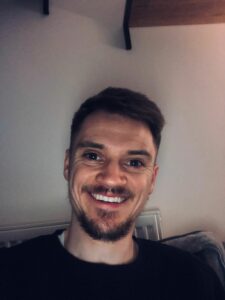 I joined in 2017, the time has gone very quickly actually. When I started, I had completed my AAT qualifications, that's The Association of Accounting Technicians, and just started my CIMA qualification – that's the Chartered Institute of Management Accountants. That was another reason that drew me to Igne, I was super keen on doing all my exams up to Chartered; when I interviewed with Rob (Rob Hunter, Chief Financial Officer) he was supportive of my ambition and told me that Igne sponsors you to study.
That practical and peer support that we get in our team is a massive benefit of the role. It benefits us, and of course it's a good investment for the company as they end up with the highest qualified staff on whom they can increasingly rely! I'm very proud to say I'm a CIMA qualified accountant and would obviously like to thank Igne for the support they have given me on my journey.
Should we mention at this point that you passed all your exams before Joe did?
Yes!
Can you explain your role – because it's not just adding up is it?
We're focused on adding value to the business – literally and metaphorically. We work to provide all our stakeholders with the best financial information, from which critical decisions can be made.
A key part of our role is making sure money is in the right place at the right time. We have projects in sanctioned countries, nations with very few banks and even live war zones, so knowing what funds need to be where and when to support operations is critical.
We also work to ensure we have the right financial controls in place; that's one of the biggest challenges when working internationally, particularly in the nations we're in. We've got to make sure we've got sufficient, robust controls in each country so that we can be confident with what we do and what is reported.
We also have to show our Operations Managers how well each project is performing from a financial side. We set up and manage bank accounts in-country too – in short, anything that has a dollar sign and a number after it goes through us.
It's such a varied role and really very interesting, you start learning about currencies and tax regimes and all that kind of stuff in such an array of nations. I mean, if you'd have asked me four years ago about the Mozambican tax system and how to work something out about it, I wouldn't have been much help. But now…I know!
There are just loads of aspects to the job, but the bottom line is ensuring each individual project can run successfully.
You sound truly passionate about your role…
What we do as a company is just so interesting and that's where the passion comes from. But when the job first came on my radar I never for one minute even knew anything about this sector or that there was a company deep in the heart of rural Herefordshire that facilitates this incredible humanitarian work.
When you start learning about it, it's just amazing. When I had my second interview for the role with Adam (Adam Ainsworth, CEO) you know, he was just telling me about things from an operational perspective and it was 'wow this is so interesting!' It draws you in and you want to be a part of it and to help make a difference.
Also, as a Management Accountant you literally follow a project from day one to the end. We're a part of each project kick-off meeting, and we see it through the entire lifecycle until demobilisation and close down.
Can you share a highlight of your time at Igne so far?
Travel – obviously the travel! I went to Mozambique and met our team there and I had such a fantastic time. To get an opportunity to go somewhere like that – you just have to grab it.
In the office we are kind of shielded from the very technical ins and outs of operations, so to go out there and see it, see the operational challenges, the hard, intense, dangerous work…it was huge for me. It gave me true understanding of the hardships and the benefits, the real work that has to go in to clearing the land and making it safe.
What has been a challenge for you as a Management Accountant?
Each new project brings its own challenges, but a recent challenge was the whole mobilisation of the new South Sudan project. Yes, we've worked there before, but we haven't been there for a long time, so to get everything in place and learn about the financial aspects of the country again was quite a big challenge.
We were starting from scratch, getting all the right financial documents in place, getting all the right banking approvals in place and ensuring the team on the ground have had financial documentation training, conduct by us Management Accountants – and you're doing this with the hurdle of language barriers. It's quite a big challenge.
Apart from the marketing department (ahem) what's the best thing about Igne?
Obviously, the marketing department! But really, it's the people, all the people - I mean I know it's a cliché, but I love working with the teams at HQ, in Gillingham, in the field. And within our own little team – well, the camaraderie and friendship is just special.
We have our in-house jokes, the banter of course, and we have little outings outside of work. I consider my colleagues to be my friends.
And having someone like Rob at the helm as well is just fantastic, and the professional and personal support flows down through Jonathan (Jonathan Kennedy, Financial Controller) and then everyone else just helps each other.
Also, I know we're a commercial business, but we are actually helping the world which is intrinsically rewarding – we each have a key responsibility within the wider work of the whole company, which is quite empowering.
Who is Alex when he's not sweating under the staff spotlight?
I'm probably Taylor Swift's number one fan? Otherwise, I don't know really. Life all got a bit boring during lockdown didn't it?! But I play football (and support the best football team in the world) listen to music, see friends when I can and love everything outdoors - I'm also close to my family so, nothing too extravagant, no crazy naked yoga or anything like that!
OK, so finally, where next for you?
I just want to keep growing within the company, becoming more of a senior member of the team really because I enjoy working here, I love the work we do and the fact that everyone's driving towards that same goal.
Thank you so much Alex for your time and for giving a really good insight into the inner workings of the finance team.