UXO survey & clearance central London
Tideway is building a 25km Super Sewer under the River Thames and Igne helped with UXO surveys and clearance operations at multiple sites in central London.
Did you know that London relies on a sewer system that is 150 years old?
It was constructed for a population less than half the current size of the city. This sadly means that millions of tonnes of raw sewage spills, untreated, into the River Thames each year - to solve this horrific problem, Tideway is building a new 'super sewer.'
UXO survey and clearance operations for the super sewer
Tideway appointed Safelane to ensure its sewer construction sites were free from unexploded ordnance from WWII - here's how the UXO survey and clearance operations worked:
Igne's UK Land technical experts designed a solution that would ensure clearance via multiple intrusive UXO surveys.
The sites surveyed and cleared ahead of the super sewer were located across Central London - including in Chelsea (Cremorne Wharf), Wandsworth (Falconbrook Pumping Station), Nine Elms (Heathwall Pumping Station) and Battersea (Kirtling Street).
The UXO surveys were looking for Second World War German unexploded air dropped ordnance (bombs).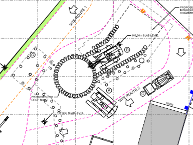 UXO surveying at Cremorne Wharf:
This wharf is part of the Lots Road Pumping Station, which is a 1904 grade II listed building.
Currently, enough raw sewage to fill more than 400 Olympic-sized swimming pools spills into the River Thames from this pumping station each year, as the site simply does not have enough capacity to cope with modern demands.
By connecting this site to the new super sewer tunnel, pollution will be reduced by more than 90%.
Clearing Falconbrook
The Falconbrook site is in the London Borough of Wandsworth next to York Gardens. It is part of a Thames Water pumping station, where more than 700,000 cubic metres of untreated sewage flows into the River Thames on average each year.
Work to intercept these overflows into the new super sewer will reduce this amount by around 94%.
Enabling the safe construction of the super sewer
The other sites Igne provided UXO surveys and clearance for were the Heathwall site, which is part of a Thames Water Pumping Station in Battersea, and Kirtling Street, which will be the central point of the 25km super sewer.
This site is located next door to Battersea Power Station, and the sewer tunnelling runs both east and west to connect the sites along the route. Located within one of the busiest construction areas in London, the shaft here, has a diameter the same size as the dome of St Paul's Cathedral!
Igne undertook multiple return visits to all of the sites to perform the required surveys. It ensured the client's tight timeframes and critical budget were protected.
Surveying work for UXO spanned about 12 months in total, and explosive ordnance engineers completed approximately 250 surveys.
In addition, pile wall surveys were provided for the client - often in confined spaces.
Igne's proud to have helped Tideway with this essential and complex the project.